Heat Treatment
Unlike traditional pesticide treatments, our heat treatment is a non-toxic and chemical-free method that uses high temperatures to kill bed bugs at all stages of their lifecycle. Our specialized heating equipment can penetrate deep into furniture, walls, and other hiding places to provide a faster and more thorough eradication of bed bugs. Don't let bed bugs take over your home – contact us today to schedule a heat treatment!
We give you results – Get a Free Quote Today!
WHY CHOOSE US OVER SOMEONE ELSE?
We Have Over 40 Years Experience Killing Bed Bugs in Arkansas
High Quality
When it comes to bed bug heat treatment, quality is key. With our high-quality heat treatment, you can be confident that your bed bug problem will be resolved quickly and completely, so you can get back to enjoying a pest-free home or business.
Free Bed Bug Quote
We offer free bed bug quotes to help you understand the scope of the problem and the best way to address it. Our experienced technicians will assess your property and provide a comprehensive quote that includes all the costs associated with our heat treatment services. 
TOP BED BUG EXTERMINATOR NEAR ARKANSAS
You don't have to sleep another night with bed bugs again.
Looking for the top bed bug exterminators in Arkansas? American Southern Exterminating has an expert team that provides fast, effective bed bug treatments to homes and businesses across the state. Know about our treatments and how they can effectively eradicate your bed bug problems.
24/7 Same Day Service
We have same day availability and are able to offer 24 hour residential and commercial bed bug control so that you can restore your peace of mind.
Affordable Costs
Our bedbug treatments are competitively priced and cost less than most of our competitors. We also provide free quotes before we get started.
Friendly and Professional
American Southern Exterminating is a fast-growing family-operated bed bug treatment company in Arkansas. Let us help you with all your bed bug frustrations with our friendly, experienced, and discrete bed bug extermination service.
Experience & Training
The founder of American Southern Exterminating has over 10 years of experience killing bed bugs in Arkansas. All of our highly-trained exterminators undergo extensive training both in the classroom and on the job.
100% Family & Pet Safe
Heat treatment greatly reduces the need for chemicals. Heat leaves no residual and is 100% safe for pets and children.
Fully Licensed, Bonded, & Insured
We want to protect you every step of the way, with our licensed and bonded bed bug control team that guarantees your satisfaction and security.
Problems with Bed Bugs – Call Us Now!
HOW WE GET RID OF BED BUGS
DIY Bed Bug Treatments DON'T WORK – Our Professional Treatments Do
Rest easy with our efficient bed bug treatments available here in Arkansas.
Whole House
Heat Treatment
Say goodbye to household pests with our comprehensive Whole House Treatment. Our team of bed bug exterminators will conduct a detailed inspection of your home to pinpoint all pest hotspots and use targeted treatments for complete elimination. Our safe and effective approach delivers long-lasting results, giving you peace of mind and a pest-free home. 
Affordable Aprehend® Treatment
Our bed bug exterminators use the latest in biopesticide technology to eliminate bed bugs quickly and effectively. Aprehend is a non-toxic, all-natural solution that won't leave any harsh chemicals or residues behind. Plus, our technicians are trained to strategically apply the treatment to target bed bugs where they live and breed, ensuring maximum results. 
HOW OUR PROCESS WORKS
– BED BUGS BE GONE IN 1, 2, 3! –
Step 1

Free Estimate
Are you waking up with unexplained bites on your skin? Don't ignore them; they could be a sign of bed bugs. Contact us immediately, and we'll provide you with a free bed bug quote. Our team is equipped with the latest tools and techniques to eradicate bed bugs from your property.
Step 2

Treatment Preparation
Treatment preparation for bed bug treatment is crucial to ensure maximum effectiveness and eliminate the infestation. Our team of experts will have a detailed preparation before the treatment and ensure that nothing is missed.
Step 3
Fast & Professional
A fast and professional approach to bed bug treatment is essential to minimize the disruption caused by bed bugs and prevent their spread to other areas.
Why Heat Treatment in Arkansas?
Heat treatment is a distinct bed bug treatment that is a non-chemical and non-toxic method using high temperatures to kill bed bugs at all stages of their lifecycle. It is also more effective in penetrating hard-to-reach areas and can provide a faster and more thorough eradication of bed bugs compared to traditional pesticide treatments.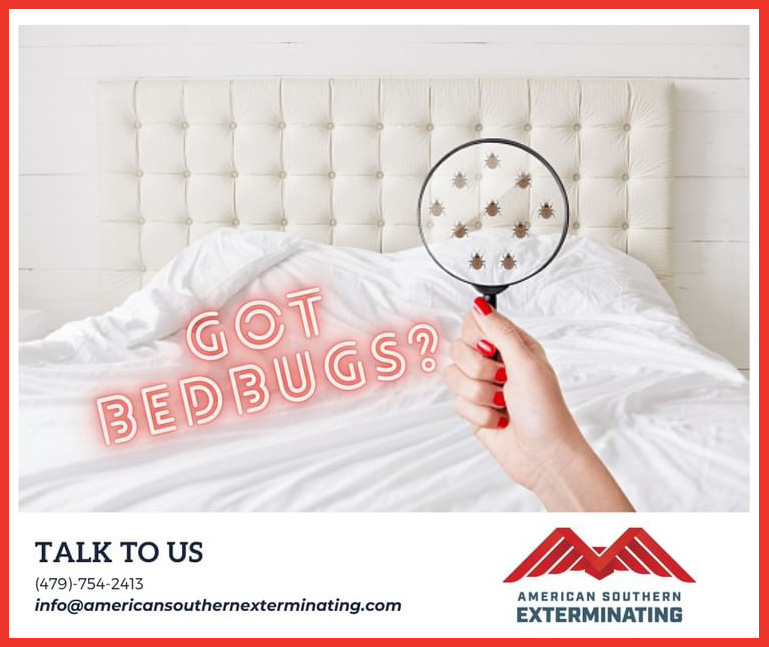 Still Have Questions?
That's okay, everyone does!